Beer fans can now order a personalized carton of one of Australia's most iconic beers.
Personalized stubbies of Victoria Bitter (VB) are now available for purchase online via the Cellarbrations Victoria website.
Fans of the brand can customize their own bottles of VB online using new web-based customization technology. A local, Victorian tech company which specializes in mass-personalization technology is helping make the campaign possible at scale.
Victoria Bitter's Marketing Director, Hayden Turner explains, "Our fans never cease to amaze us with how loyal and dedicated they are to the brand, so we wanted to do something to show our appreciation. Personalisation has become increasingly popular over the past couple of years, so we are thrilled that Cellarbrations is helping us provide our fans with their very own personalised cases of VB", Mr Turner says.
For just $125, anyone in Australia can order a carton of stubbies (24 bottles) online while placing whatever text they want on the front label.
Below, is just one example we created yesterday.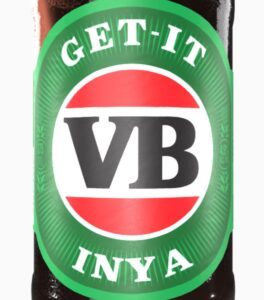 But what about swearing and brand safety?
According to insiders, some very creative combinations have already been submitted, but some have already been caught in the system's various profanity filters.
CEO of Spiff3D, Shadi Taleb says, "Our staff had a good laugh at some of the designs that got flagged. We can't repeat them publicly. but they do make for entertaining reading. Of course, Aussie slang dominated, including lots of swearing and references to a famous viral clip of a man on a forklift."
"But this wasn't our first rodeo. We've executed mass-customization campaigns with other iconic beverage brands like Coca Cola too. So we've had to create enterprise-grade technology in the back-end systems. When you are dealing with multi-billion dollar brands, brand safety and trademark usage become important problems we've had to solve. So we have built systems which automatically filter out a lot of potentially problematic designs before they are printed. Having said that, we were pleased the branding team at VB still allowed people to be a little cheeky in a way that's consistent with the brand's personality."
See how it works in this video
COVID project delays
It seems this project was a long time in the making. Spiff3D had been reportedly working on the project with VB for over two years.
Shadi continues, "VB reached out to our team back in 2019 when they were still owned by Carlton United Breweries (CUB). The Asahi takeover delayed this project's launch until recently. Now that the COVID situation has improved and there's more certainty in the market, we're noticing forward-thinking retail brands are prioritizing projects like this again. Especially in the lead-up to the Christmas period. As you can imagine, customization campaigns like this work especially well for gifting situations."
Try it for yourself right now
The promotion runs for a limited time only, with guaranteed pre-Christmas delivery for all orders up until December 5.
Visit the Cellarbrations website here, to order your own customized carton of VB beer today.